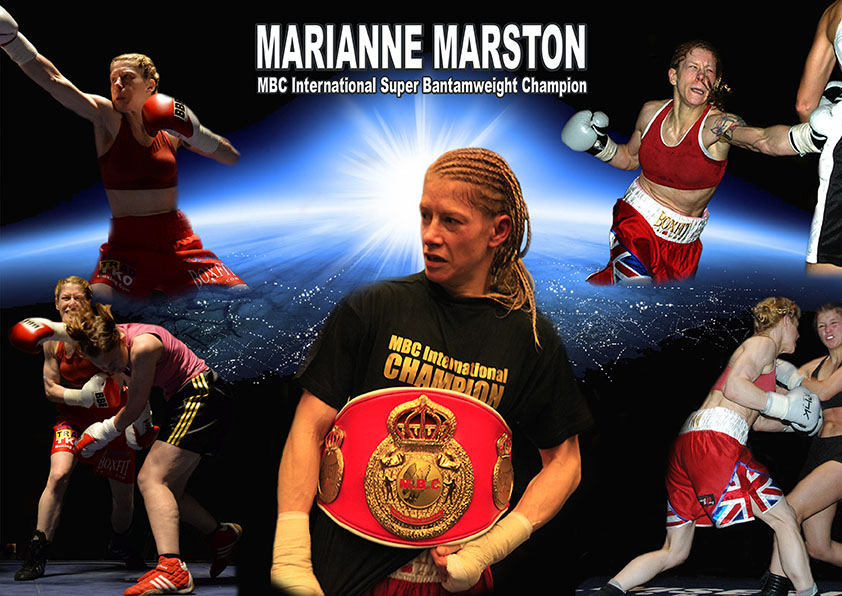 Marianne Marston
Marianne, who is also a Professional Boxer as well as a Personal Trainer and Sports Nutritionist, specialises in preparing athletes for competition by creating specific conditioning regimes as well as developing training and pre-competition nutritional programs designed to increase performance, stamina and endurance.
In 2009 Marianne, returned to London following two years being based in Philadelphia, PA, USA, where she was trained and managed by Legendary Champion of the World 'Smokin' Joe Frazier and part of two time Cruiserweight Champion of the World Steve 'USS' Cunningham's professional boxing team.
In 2014 Marianne earned her first Championship accolade and became the MBC International Super Bantamweight Champion
The Personal Training regimes, Marianne created, are far removed from the aerobic 'Boxercise' training offered by most fitness centres and personal trainers. These sessions are the real deal and include many of the conditioning exercises and boxing drills she personally uses in her own, and athlete clients, competition preparations.
Marianne Marston "London's Best Personal Trainer" Time Out Magazine
Marianne's One-2-One personal training sessions are available for both Male and Female clients and are tailored to your individual needs, whether you are looking to learn to box, improve your boxing technique, or simply want to get into peak shape.
Marianne's One-2-One sessions are a true professional boxing workout which includes many of the techniques, exercises and boxing drills that Marianne herself and other top flight professional boxers use in their training and competition preparations.
As the One-2-One personal training sessions are tailored to your individual needs by Marianne they are suitable for all regardless of fitness level.
Please either e.mail marianne@londonboxingtraining.com to book any One-2-Ones or for further information please call or text Rio on 07789 364702
Currently Personal Training sessions take place at the PT Workspace in Islington and Mullins Personal Trainers in Hendon
CONSULTATION & FEES:Initial Consultation
At the initial consultation Marianne will ascertain your fitness goals, training history and the potential programs and services that would be optimal for you. The initial consultation also includes a full fitness assessment as well as an introductory session.
Individual One-2-One Personal Training/Conditioning Sessions
1 hour One-2-One personal training/conditioning session – Cost: £60.00
Special Offers
Five One-2-One Sessions £275.00
Ten One-2-One Sessions £500.00
Further information or to book a session please e.mail Marianne or call 07789 364702
1-2-1 Session(s) Payment & Gift Certificates
Please Note: One-2-One sessions are required to be paid in advance, a time slot for a single or multiple sessions will then be allocated. If you are unable to attend the arranged session(s) please note that there are no refunds and that the terms for rescheduling or cancellation of One-2-One sessions is that notice by phone, e.mail or text must be received at least 24 hours prior to the session or that session is deemed to have taken place.


Save
Save
Save
Save
Save
Save
Save
Save
Save
Save
Save