TIME OUT MAGAZINE – "LONDON'S BEST PERSONAL TRAINER"

Time Out Magazine researched and compiled a list of London's Best Personal Trainers in five specialised fitness areas. Time Out Magazine then selected just the best in each area for inclusion in their January 2010 issue and on publication Marianne was listed as the best 'Boxing & Circuits' trainer.
Below is what Time Out Magazine had to say about Marianne.
"This hard-as-nails blonde teaches at a spit-and-sawdust gym in London. Herself a pro boxer discovered by Smokin' Joe Frazier, Marston still competes in the US as part of a cruiserweight champion team, but between bouts her considerable energies are focused on those she trains. As well as boxing training to sculpt and tone your figure fast, the 'Golden Girl' is also a qualified nutritionist, who knows how to pack a punch despite being wheat – and lactose – intolerant. That doesn't mean she'll stand for sissies, though – and with her hardcore boxing and circuit training, the 'Golden Girl' runs a pretty terrifying ship."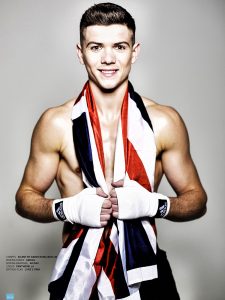 Luke Campbell – London 2012 Olympic Bantamweight Gold Medalist, WBC Silver and Commonwealth Lightweight Champion
During my first fight, against Mexico's Rey Vargas, at the 2009 World Championships in Milan I felt heavy legged and I didn't feel I was moving around the ring as freely as usual. I was a little concerned about this so I called Marianne to ask her advice.
She took the time to listen to my description of the problem and then asked me various questions on my fight preparations. As my training was the same as usual Marianne then asked me what I had eaten and drank over the previous few days.
The next morning we spoke again and she said she had e.mailed me a diet plan for the build up to my next fight and a specific timed diet plan for the day of the fight.
I followed the plans Marianne had sent me and I felt good, full of energy. It was as if I had never had the problem in the first place.
I've been training with Marianne now for about 4 months. It took me a bit of persuasion to start. I'd never been in a boxing gym before and I imagined it to be a really intimidating place, especially for women. I thought there'd be a bunch of cliquey people and macho men.
Not a bit of it. The moment I walked in to the gym people talked to me and smiled and encouraged me. There was no attitude, no self-importance and I felt really welcome. It was reassuring for me that I was being taught by a woman trainer as it was what I needed to build my confidence.
Marianne was not what I was expecting at all, blonde, beautiful and small but my goodness, one of the toughest instructors I've come across. When I first started training I would say I was moderately fit. This was a whole new ball game. First it was the hardest exercise I've ever done and second, it brought really fast benefits. My stamina, strength and flexibility have come on in leaps and bounds.
My confidence has grown too. At first I had two left feet and couldn't throw a punch to save my life. Now I feel in control of what I'm doing and I can see with each week that my technique has improved. Marianne has really inspired me and are great fun and for her, I might even lose the pink boxing gloves!
Save
Save
Save